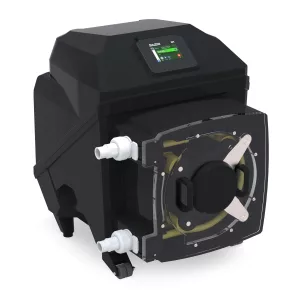 FLEXFLO® Peristaltic Metering Pump
The FLEXFLO® M5 Peristaltic Metering Pump is truly an advancement in high-volume precision fluid metering. This energy-efficient pump is capable of delivering outputs up to 8.9 gallons per minute at only 75 RPM motor speed, maximizing tube life and reducing overall maintenance. The M5 also reduces pulsation by up to 80% through its exclusive offset roller design and dual-channel tube assembly.
The M5 is a fully enclosed and easily configurable pump that does not require external control devices to operate. It features a large 5″ display for easy viewing with simple and intuitive touchscreen controls and icon-driven menu navigation. M5 remote control signal options include Pulse, 4-20mA, Modbus TCP, EtherNet/IP™, and PROFIBUS for enhanced supervision and automation for critical metering and transfer applications.
Technical Overview:
| | | | |
| --- | --- | --- | --- |
| GPH | .0076 – 534 | Enclosure Rating | NEMA 4X (Pending), Kydex |
| LPH | .0286 – 2021 | Standards | cETLus, CE, NSF61 |
| mL/min | .4767 – 33683 | Control Methods | Manual, Remote Analog/Digital, EtherNet/IP, Modbus TCP/IP, PROFIBUS |
| Pressure    | 65 PSI (4.4 Bar) | Power Supply | 115 to 240VAC-50/60Hz |
Benefits:
Self-priming – even against maximum line pressure. By-pass valves are not required. Cannot vapor lock or lose prime. 30ft of suction lift. Gentle low shear pumping action.
Tube Failure Detection (TFD) senses tube rupture by detecting chemical in the pump head. No false triggering – Patented
Dual channel tube design for optimum performance and pressure capability
Exclusive offset-roller design reduces pulsation by up to 80%
Communication and Interface:
5" touchscreen color LCD display
User-friendly configurations
Control Methods:

Manual Control
4-20mA Input
Remote Start/Stop
Pulse Input
Frequency Input
EtherNet/IP
Modbus TCP/IP
PROFIBUS
Alarm Outputs
FVS
Relay Ouput
Superior Design:
5 Year Warranty
10,000:1 turndown ratio
NEMA 4X (Pending) wash-down, chemically resistant enclosure
Heavy duty rotor means no flexing and increased accuracy with no metal springs or hinges to corrode.
Safety Features:
Tube Failure Detection (TFD) senses tube rupture preventing hazardous chemical spills
Security programmable 6-digit password to prevent tampering
Maximum Working Pressure (excluding pump tubes)
65 psig (4.4 bar)
NOTE: See individual pump tube assembly maximum pressure ratings.
Maximum Fluid Temperature (excluding pump tubes)
185 °F (85 °C)
NOTE: See individual pump tube assembly max. temperature ratings.
Maximum Viscosity
12,000 Centipoise

Maximum Suction Lift
30 ft. Water, 0 psig (9.14 m, 0 bar)

Ambient Operating Temperature
14 °F to 115 °F (-10 °C to 46 °C)
Ambient Storage Temperature
-40 °F to 158 °F (-40 °C to 70 °C)
Operating Voltage
115VAC/60Hz, 1ph
230VAC/60Hz, 1ph
220VAC/50Hz, 1ph
240VAC/50Hz, 1ph
230VAC/50Hz, 1ph
Power Cord Options
115V60Hz = NEMA 5/15 (USA)
230V60Hz = NEMA 6/15 (USA)
220V50Hz = CEE 7/VII (EU)
240V50Hz = AS 3112 (Australia/New Zealand)
230V50Hz = BS 1363/A (UK)
Motor
Brushless DC, 1 hp
Motor Speed Adjustment Range
10,000:1 (0.01% – 100% motor speed) Max RPM = 75
Motor Speed Adjustment Resolution
0.1% increments > 1% motor speed and < 100%
0.01% increments < 1% motor speed
Display
5" touchscreen color LCD, UV resistant.

Display Languages
English, Spanish, French, German, and Portuguese selectable

Maximum Overall Dimensions
25.7"W x 30.1"H x 32.8"D (65.2W x 76.4H x 83.3D cm)
Product Weight
178 lb. (80.7 Kg)
Security
Programmable 6-digit password
Approximate Shipping Weight
180 lb. (81.65 Kg)
Enclosure
NEMA 4X (Pending), Kydex
RoHS Compliant
Yes
Standards
cETLus, CE, NSF61