Blue-White® Diaphragm Metering Pumps
Blue-White's CHEM-FEED® Diaphragm Metering Pumps (Diaphragm Dosing Pumps) can accurately feed chemicals in high-pressure applications and require minimal downtime. Their exclusive DiaFlex® Diaphragms are constructed of PVDF for exceptional chemical compatibility and are guaranteed for the life of the pump.
How do Diaphragm Pumps Work?
Diaphragm pumps are a type of positive displacement pump that use a rubber or plastic diaphragm and corresponding valves on each side of the pump head to pump fluid. When the diaphragm flexes, the pressure inside the pump lowers, drawing fluid into the suction side of the pump head. When the diaphragm flexes back, the fluid is forced out of the discharge side of the pump head. Many diaphragm pumps include check valves to keep the liquid from flowing backward in the pump.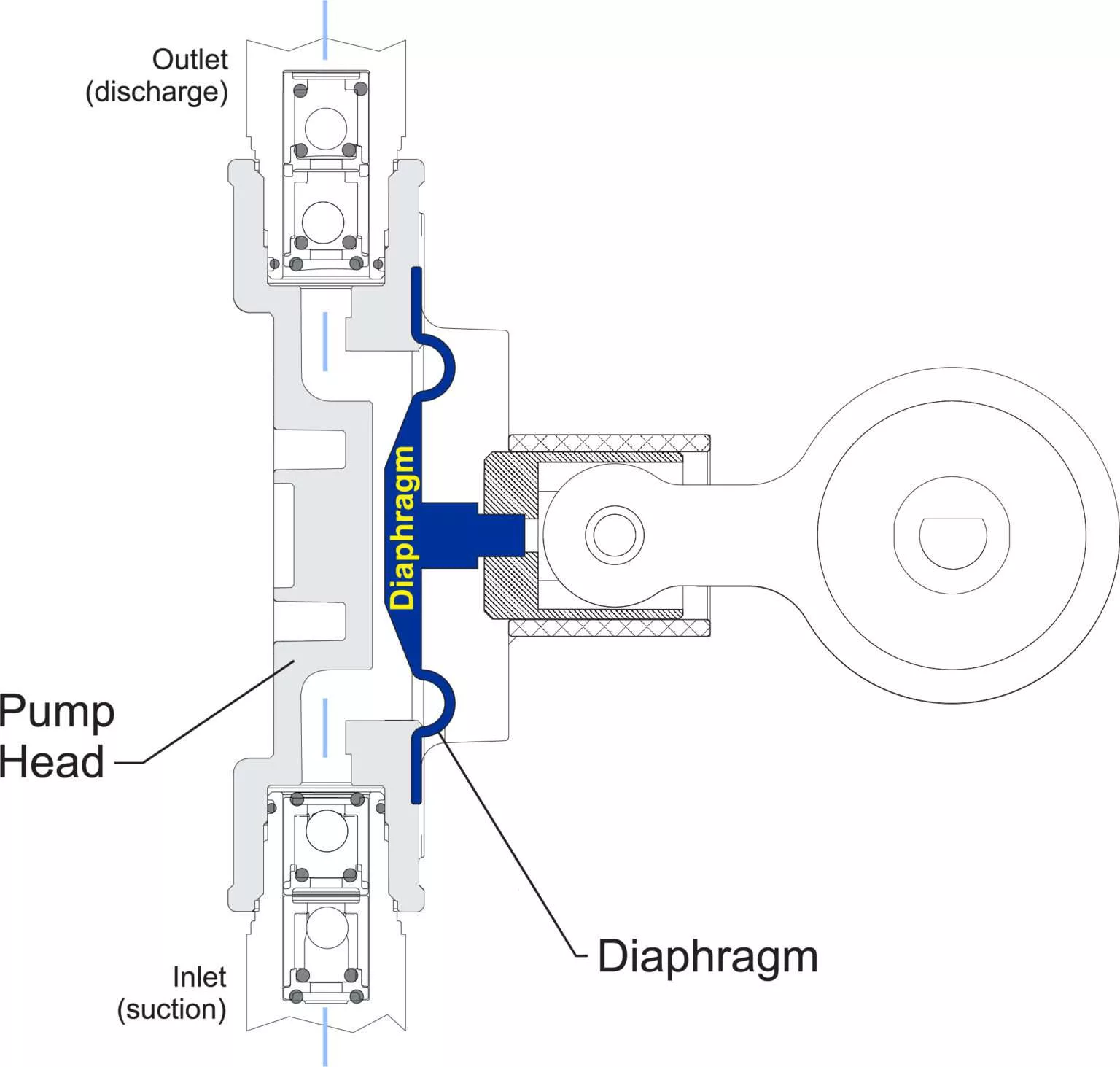 Advantages of a Diaphragm Metering Pump
Low cost of ownership
A properly sized diaphragm metering pump requires very little maintenance, saving you time and money
Energy efficient
On the forward (power) stroke of a diaphragm pump, more motor torque is used, but much less on the reverse stroke
High pressure capabilities
Overcoming line pressure is easier with properly sized diaphragm metering pumps
Exclusive longer lasting diaphragm
The revolutionary DiaFlex® diaphragms from Blue-White last the entire life of the
Applications
Wastewater Treatment
Potable Water Treatment
Agriculture and Irrigation
Car Wash
Cooling Tower Water Treatment
Boiler Feedwater Treatment
General Chemical Metering
"Blue-White is innovative. And the unique thing about Blue-White, if you send them an idea or you send them a request, it's amazing how fast their response is…"
Daniel Smith
Director of Strategic Markets Ti-Sales | Sudbury, MA
Diaphragm pumps are a type of positive displacement pump that combines the reciprocating action of a diaphragm and valves on either side of a pump head to transfer fluid.
Pulsation dampeners are often used to reduce pressure fluctuation found in regular diaphragm pump operation. Another method is utilizing diaphragm pumps with two or more diaphragms that operate in succession. Blue-White's multi-diaphragm pump, for example, features two diaphragm pump heads on either side of a drive enclosure. When one diaphragm is in the suction phase and the other in the discharge phase. The two diaphragms working together combined with a fluid manifold creates a smooth chemical feed profile that significantly reduces pulsation.
Diaphragm pumps are used in a variety of applications, including water treatment and conditioning, soap, wax and detergent injection, wastewater treatment, biocide feed, rural water systems, cooling tower & boiler water treatment, fertilizer and nutrient injection.