High Pressure Misting Pump at OVERSEAS MOTORS
OVERSEAS MOTORS Group specializes in high pressure misting pumps with premium quality components and reliable performance. Our pumps are suitable for both residential and commercial outdoor misting systems.
Understanding Misting Pumps
Misting pumps are high pressure, low flow type of pumps. The pump forces the water through high pressure atomizing nozzles, generating tiny droplets of water which hangs momentarily in the air.
One of the requirements to generate high quality mist is the high pressure needed to force the water through the nozzle, creating fine water droplets in the smallest sizes of below 50 microns.
Types of Misting Pumps (Low to High Pressure)
Centrifugal
This is one of the lower cost options to provide pressure for mist generation. The discharge pressures generated from standard single stage centrifugal pumps have a maximum limit of 10 bar.
Peripheral
Also known as regenerative turbine pumps, this pump works on the same principle as the centrifugal pump, but with a special impeller with radial vanes. They are capable of producing higher discharge pressures of up to 18 bar.
Vertical or Horizontal Multistage Pumps
Compared to the standard single stage centrifugal pumps, the multistage pump is able to produce a maximum pressure limit of up to 40 bar.
Positive Displacement, Reciprocating Plunger Pumps
The plunger pump is capable of producing pressures from 70 bar (1000 psi) up to 207 bar (3000 psi) or higher. This makes it the ideal type of pump for producing high quality mist for the necessary applications.
High Pressure Misting Pumps Application
Visual Effects
One of the main functions of the misting pump is to create fog or smoke for aesthetic purposes. They are usually installed in theme parks and amusement places where the effects add to the thrills and ambience of the attraction, improving their experience and enjoyment of the area.
Cooling of Outdoor Areas
The mist created by the high pressure pump evaporates and cools the surround areas. The resultant temperature drop can be up to 17 degree celsius. This is a cost effective cooling solution for outdoor areas such as swimming pools, theme parks, alfresco restaurants and tourist hotels.
Benefits and Advantages of our High Pressure Misting Pumps
Here at Overseas Motors, we have a wide selection of high pressure misting pumps to meet your misting application. Some of these benefits includes:
Continuous Duty
Our high pressure pumps and coupled with S1 continuous duty electric motors for 24/7 round the clock operation. With adequate water fed and proper electrical supply to the pump, the high pressure pump will provide the customer with trouble free daily operation and low maintenance costs.
Efficiency
Our plunger type high pressure pumps ensure the highest efficiency of typically 90% compared to types of pumps such as centrifugal. This energy saving design allows a lower cost of operation costs in terms of minimizing electrical bills.
Our High Pressure Misting Pumps
1CX050R – 1CX DIRECT DRIVE PLUNGER PUMP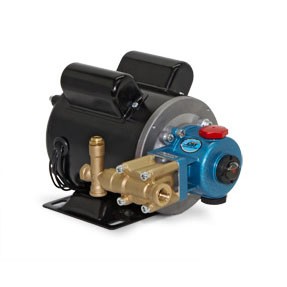 This 1CX Cat Pump is designed to keep your systems running reliably.
Features:
– Oil Lubricated Drive-End
– Specially Designed Regulator
– Up to 0.5 GPM (1.9 LPM)
– Up to 1250 PSI (86 BAR)
– Seals last thousands of operation hours
– Same long life expectancy as Cat Industrial Pump Range
2SF Direct Drive Plunger Pump
Description for 2SF29ELS:
– Designed for continuous duty applications
– Specially formulated high pressure seals
– Concentric polished Ceramic Plungers
– Up to 4 GPM (15.1 LPM)
– Up to 3000 PSI (206 BAR)
With more than 60 years of experience, our team has extensive knowledge and expertise in this industry. We are committed to superior customer service. We have what it takes to fully understand your problems and requirements, and we will advise on the right high pressure misting pump for your system to meet your exact needs.
Contact us today and find out the best misting pump for your misting system application.