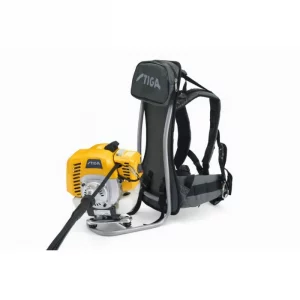 Rucksack brushcutter powered by a 51.7 cc petrol engine with single handle with integrated controls, flexible shaft and 45 cm cutting width.
51.7 cc 2-stroke petrol engine
Single loop handle
Flexible shaft
45 cm cutting width
Tap&Go Dual Line (Pro) strimmer head and 3T blade included
Rucksack harness with engine holder that holds the engine
Product details and specs
The STIGA BC 555 R brushcutter is a safe, manoeuvrable and stable solution for heavy-duty and prolonged tasks. The BC 555 R combines the power of a 51.7 cc (1.55 kW) petrol engine with the convenience of a flexible shaft and 45 cm cutting width. The controls integrated into the handle and the special rucksack design take the strain off the user's arms and ensure comfortable use in all conditions. The structure is robust and the shoulder straps are made of a very strong yet soft material. The engine is mounted on a rotating plate to assist the movement of the shaft. The metal 3T blade supplied is interchangeable with the Tap&Go dual line head which quickly releases the line by simply tapping the head on the ground.
What's in the box
BC 555 R
Nylon head Metal blade Harness Plastic bottle Screwdriver Socket spanner