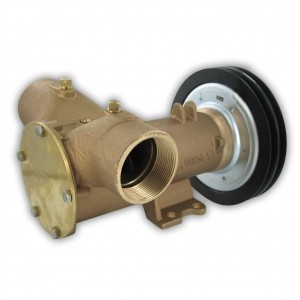 Flow rate: Nominal 83 USgallons/min (314 Litres/min) at 1750rpm
Self-priming from dry up to 2.4m (7.8ft)
Model No.: 18330 Series
Constructed from marine quality bronze and stainless steel for ruggedness and reliability.
Easy to service and maintain.
Inexpensive to buy and operate.
Will tolerate abrasive wear (this may affect performance – seek advice from your distributer).
Handles hard and soft solids without clogging.
Can pump in either direction.
Will not airlock.
Specifications
Body Materials
Bronze
Impeller
Neoprene or Nitrile
Wearplate
Replaceable
Shaft Material
Stainless steel
Seal
Carbon/ceramic mechanical type
Bearings
Twin single row, ball type
Port Type
2″ NPT
Clutch Type
Electro-magnetic 12 or 24Vdc
Pulley
178mm (7″) 'A' or 'B' section
Weight
13.2 (kg)
29 (lb)
Downloads
 Technical Data Sheet
APPLICATIONS MARINE:
Engine cooling, Pumping bilges, Washdowns, Circulating water in bait tanks, Utility dockside pump.
INDUSTRIAL:
Circulating and transferring, Velocitymixing, Return spill, Sump drainage, Chemicals, Pharmaceuticals, Soap, Liquors, Ink, Dyes, Alcohol, Tanning Liquors, Glycerine, Brine, etc.
FARMING:
Pumping water for stock, Pumping water from shallow wells and cisterns.
PUBLIC UTILITIES AND MUNICIPALITIES:
Under the hood mounting on service trucks for dewatering and draining meter boxes, manholes, excavations, and truck installation under hood for emergency pumping.